NETATMO Smart Security Bundle
ID: NBU-ICSS-EU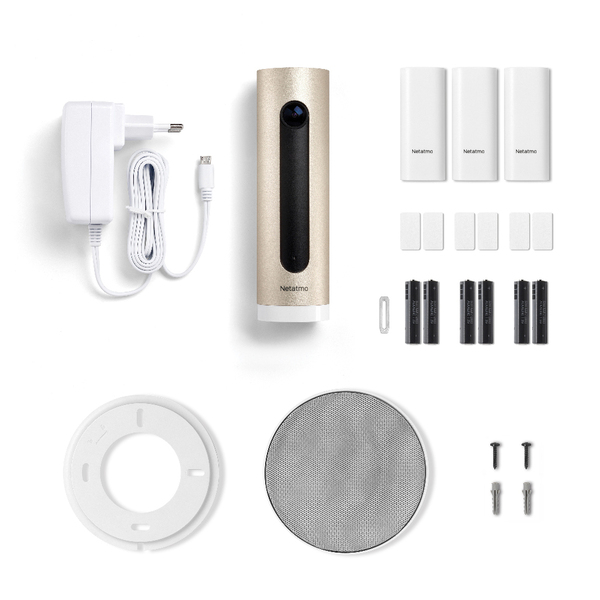 229
00€
184
68€
Show VAT 0%
Show VAT 24%
Estimated delivery: 13.12 - 15.12
Multitronic warehouse store
Multitronic | JNT Pietarsaari
Multitronic | iTronic Jyväskylä
Multitronic | iTronic Lappeenranta
Benefit with campaign price
This product has a special price of 229,00 € valid between 11.8.2023 - 31.12.2024 or while the campaign quantity lasts. Remaining campaign qty: 1/1. The lowest price for this product during the last 30 days prior the campaign start was 249,00 €.
Specifications
Description
Delivery
Price development
Packaging data
Package weight
1.57 kg
Package depth
123 mm
Package height
196 mm
Package width
214 mm
Camera
Digital zoom
8x
Zoom capability
Maximum resolution
1920 x 1080 pixels
Supported video modes
1080p
Night vision
Night vision distance
5 m
Camera interface
Wired & Wireless
Camera weight
230 g
Camera connectivity technology
Wi-Fi
Camera operating temperature (T-T)
0 - 40 °C
Camera storage temperature (T-T)
0 - 40 °C
Camera dimensions (WxDxH)
45 x 45 x 155 mm
Camera motion detection
Security camera
Packaging content
Package type
Box
Batteries included
Mounting kit
Door/window sensor battery included
Sensors
Motion sensor
Door/window sensor interface
RF Wireless
Door/window sensor battery type
AAA
Door/window sensor battery voltage
3 V
Door/window sensor operating temperature (T-T)
0 - 40 °C
Door/window sensor storage temperature (T-T)
0 - 40 °C
Door/window sensor dimensions (WxDxH)
30.4 x 15.8 x 76 mm
Door/window sensor weight
45 g
Door/window sensor
Features
Product colour
Metallic, White
Built-in speaker(s)
Detection distance
5 m
Logistics data
Country of origin
China
Central control unit
Wi-Fi standards
802.11b, 802.11g, Wi-Fi 4 (802.11n)
Wi-Fi frequency
2.4 GHz
Central control unit operating temperature (T-T)
0 - 40 °C
Central control unit storage temperature (T-T)
0 - 40 °C
Wi-Fi (central control unit)
Siren
Alarm decibels
110 dB
Siren
Siren connectivity technology
Bluetooth
Siren operating temperature (T-T)
0 - 40 °C
Siren storage temperature (T-T)
0 - 40 °C
Siren dimensions (WxDxH)
130 x 35 x 130 mm
Siren weight
282 g
EAN
3700730503464
Warranty
2 years
Source: Icecat.biz
Enjoy the peace of mind that comes with a complete video alarm system
Burglary need no longer be a worry! The Netatmo Smart Alarm System with Camera has everything covered. It offers full protection for your home and provides you with real peace of mind. Going out? No sweat! The Netatmo Smart Indoor Camera, Door and Window Sensors, and Indoor Siren keep a close eye on your home.

Receive an alert and take action even before a break-in occurs
Your Netatmo Smart Alarm System with Camera alerts you to a problem even before an intruder manages to break in. How? Installed on the doors and windows of your choosing, our sensors can tell if someone is trying to force entry. When this happens, you receive an immediate notification on your smartphone. Want to take action? It's easy. Set up your Alarm System so that the Indoor Siren goes off automatically if an intruder tries to break in.

Is there an intruder in your home? Your Alarm System alerts you and scares them away
The Netatmo Smart Alarm System with Camera protects your home in several ways. Your Smart Indoor Camera can distinguish between a familiar and an unfamiliar face. If it spots an intruder in your home, it sends a notification and a video of the intrusion to your smartphone. Meanwhile, the Indoor Siren automatically sounds its deafening 110-decibel alarm.

Easy to set up
Smart and straightforward - that's the thinking behind Netatmo products. It's easy to install your new Alarm System. Download the Netatmo Security app to your smartphone and connect the various elements. Simply place your Smart Indoor Camera and Indoor Siren in your entranceway and stick your Door and Window Sensors on the doors and windows to be monitored. You are now protected!

Access to all features with no subscription
There are no hidden costs. All features and updates for your alarm system along with video storage are accessible at any time without subscription. View and download footage from your Smart Indoor Camera directly in the app. The videos are stored locally directly on an encrypted microSD card built in to the Indoor Camera. Only you can access it.

No more false alarms
Avoid being disturbed or waking the neighbors for a false alarm. Stranger, family member, or pet? Your Camera can distinguish between them. The system uses facial recognition and specific settings for the Door and Window Sensors to ensure you only receive useful alerts. The Smart Indoor Siren will only sound if there is a real intruder. Customization prevents you and your neighborhood from getting a shock every time your cat jumps on the sofa.

System arms and disarms itself automatically
Did you dash out of the house to catch your train and forget to switch on the alarm system? No problem! The Netatmo Smart Alarm System with Camera arms and disarms itself automatically when you leave and return home. You can relax: your smart equipment is programmed to make your life easier.

Pre-recorded noises make it sound like there's someone home
When it comes to deterring an intruder, you can never take too many precautions. Your Netatmo Smart Alarm System with Camera offers a selection of pre-recorded domestic noises, including the sound of a dog barking, children crying or hoovering. Select what it plays to make it sound like you're home - even when you're not.
Fetch from the shop
Estimated delivery time: Today
Posti Parcel Point
Estimated delivery time: 12.12 - 14.12
Postal Parcel
Estimated delivery time: 13.12 - 15.12
MH Locker and Near Parcel
Estimated delivery time: 13.12 - 15.12
Matkahuolto Bus Parcel
Estimated delivery time: 13.12 - 15.12
Parcel to the Doorstep
Estimated delivery time: 13.12 - 14.12
Home Delivered Parcel
Estimated delivery time: 13.12 - 14.12