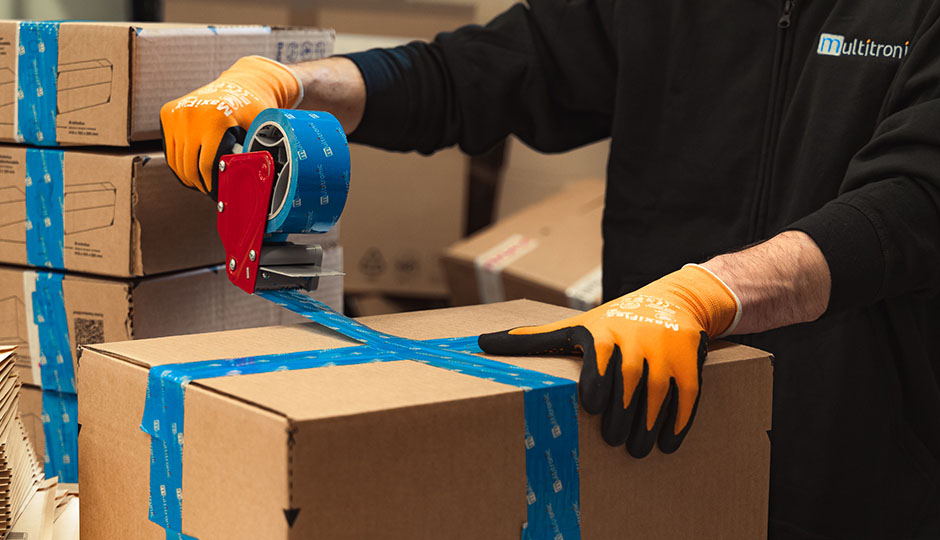 Delivery information
We deliver products in Finland as well as to the Åland islands. The delivery fee starts at 4,90€ and depends on the delivery method. Products with "Free Delivery" label are eligible for free delivery with select delivery methods. If you order products with the pick-up in one of our stores, it will always be 0€.
During checkout, you can choose one of the delivery methods provided by Posti and Matkahuolto. We send orders only during work days. Delivery within Finland usually takes 1-2 working days, while to Åland, it can take a little longer – 2-4 working days.
Delivery to the store
Everything you find on the Multitronic website can be delivered to any of our
stores
. During checkout, select "Store pick-up" and choose the desired store. When an order arrives at the store, you will receive a text message and email that your order is ready for pick-up. If the item is in stock in the desired store, we recommend placing an order online to reserve it. Pick-up from the store is always free!
Delivery time
You can find estimated delivery time for online orders and separate delivery and availability in our stores on every product page, below the price. The estimated time displayed on the website includes handling and delivery. Timing can change due to unforeseen circumstances, such as order processing issues or delivery delays caused by third-party companies.
Delivery to Parcel Locker
Sometimes Posti locker can be filled with parcels, and no free space is left. In that case, Posti will send your package to the nearest available locker or contact you. Large-sized products that cannot fit into the locker will be diverted to the nearest Posti outlet.
Parcel storage
Orders delivered to Posti / Matkahuolto lockers or outlets will be stored for seven (7) days. Usually, on the 4th day, you will be reminded of the parcel waiting for you. On the 7th day order will be shipped back to us.
Tracking code
Once we pack and prepare your order for shipment, we will send you the tracking code that links to the delivery website. You can follow your package and get a notification once it reaches its destination. Information in the tracking code will update once the delivery company will pick-up the order from our warehouse.
Weekends and Public Holidays
We do not ship products during weekends or public holidays. Delivery companies pick up orders from our warehouse from Monday to Friday, excluding public holidays. If you place an order on Friday evening, we will send it on Monday or the next working day.
Large-sized products
Large-sized items usually arrive in shipping boxes to us and are hard to combine with other products for delivery. When we receive an order from you for a monitor and keyboard, we will send them in multiple packages. Usually, packages arrive at once. However, sometimes the first item can come faster than others.
Delivery to Åland islands
We only offer delivery with Posti to the Åland islands. Delivery fees can differ from the continental price due to local taxes and delivery surcharges, such as marine insurance. You will see the delivery fee during checkout. Delivery time is slightly longer and usually takes 2-3 working days from our warehouse in Vaasa.
Delivery to Russia
Because of the imposed sanctions, we do not send any orders to Russia since March 2022. This option is no longer available in the checkout.
Questions or concerns?
If you have any questions or need help, don't hesitate to contact us. You can call our customer service number or send us an email. Our professional team will be happy to help you and answer all your questions.
Contact us
Our customer service is open on weekdays from 09:00 to 17:00.
By phone: +358 (0)6 319 77 00
By email: info@multitronic.fi