Varmilo VEA109 Koi V2 MX Red - gaming keyboard, red/white
ID: A27A039A3A1A02A034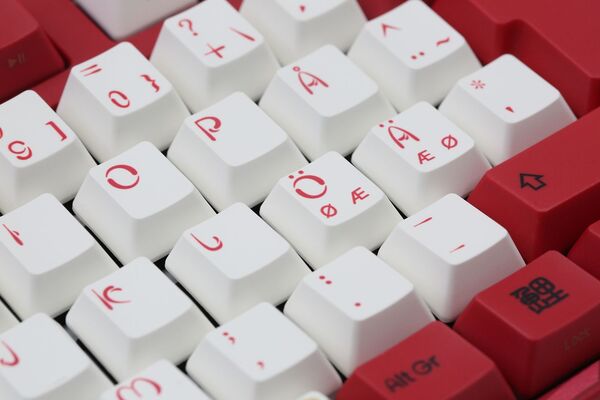 220
90€
178
15€
Show VAT 0%
Show VAT 24%
Estimated delivery: 15.12 - 25.12
On order with ETA after 13.12.2023
Multitronic warehouse store
Multitronic | JNT Pietarsaari
Multitronic | iTronic Jyväskylä
Multitronic | iTronic Lappeenranta
Specifications
Description
Store availability
Delivery
Price development
Elevate your typing experience with the Varmilo VEA109 Koi V2 MX Red mechanical keyboard. Designed for both work and play, this keyboard combines the elegance of the Koi fish with the precision of MX Red switches.Key Specifications:
Switch Type: MX Red Mechanical Switches
Backlighting: None (Non-backlit)
Key Rollover: 6-Key Rollover (6KRO)
Keycaps: Double-shot PBT with Dye-Sublimated Legends
Connectivity: USB-C Wired
Construction: ABS Plastic Case
Anti-Ghosting: Yes
Key Lifespan: 50 million+ keystrokes
Keycap Profile: Cherry MX Profile
Operating System: Windows and macOS Compatible
Discover the harmony of form and function with the Varmilo VEA109 Koi V2 MX Red mechanical keyboard. Inspired by the elegance of Koi fish and engineered with precision, this keyboard offers a balance of style and performance.
The MX Red mechanical switches provide a smooth and linear keystroke, making them perfect for both typing and gaming. Whether you're working on a report or engaging in intense gaming sessions, these switches offer a responsive and quiet experience.
The keyboard's minimalist design is free from backlighting distractions, allowing you to focus on your tasks or immerse yourself in its aesthetics. Its clean lines and simplicity add a touch of sophistication to any workspace.
With 6-Key Rollover (6KRO), you can confidently type multiple keys simultaneously without ghosting or key conflicts, ensuring every command is executed accurately.
The double-shot PBT keycaps are not only durable but also feature dye-sublimated legends that won't fade over time. The Cherry MX keycap profile ensures a comfortable typing experience.
Compatible with both Windows and macOS, the Varmilo VEA109 Koi V2 MX Red keyboard adapts to your preferred operating system seamlessly.
What's Included in the Retail Box:
Varmilo VEA109 Koi V2 MX Red Mechanical Keyboard
Detachable USB-C Cable
Keycap Puller
Quick Start Guide
Fetch from the shop
Estimated delivery time: 14.12 - 25.12
Posti Parcel Point
Estimated delivery time: 14.12 - 24.12
Postal Parcel
Estimated delivery time: 15.12 - 25.12
MH Locker and Near Parcel
Estimated delivery time: 15.12 - 25.12
Matkahuolto Bus Parcel
Estimated delivery time: 15.12 - 25.12
Parcel to the Doorstep
Estimated delivery time: 15.12 - 24.12
Home Delivered Parcel
Estimated delivery time: 15.12 - 24.12